On August 17, 2015, at the InterContinental Asiana Saigon, Ho Chi Minh City, Deputy General Director of Petrolimex Petrochemical Corporation JSC (PLC), Ngo Duc Giang, on behalf of PLC leadership, disclosed information related to PLC and participated in the Forbes Vietnam's Business Forum 2015 and the ceremony to honor 50 Best Vietnamese Listed Companies organized by Forbes Vietnam under the theme "Taking the lead". The forum specified opportunities and challenges, and created a platform for businesses to share strategies, and to increase competitiveness to become leading enterprises.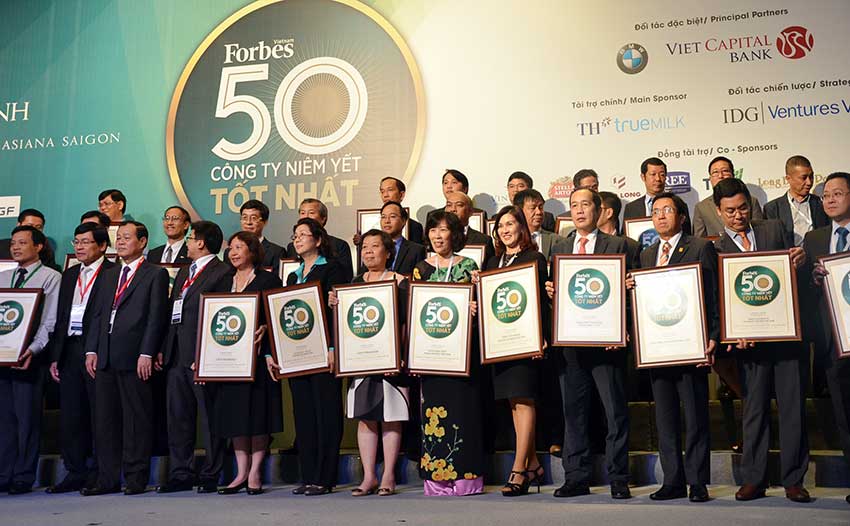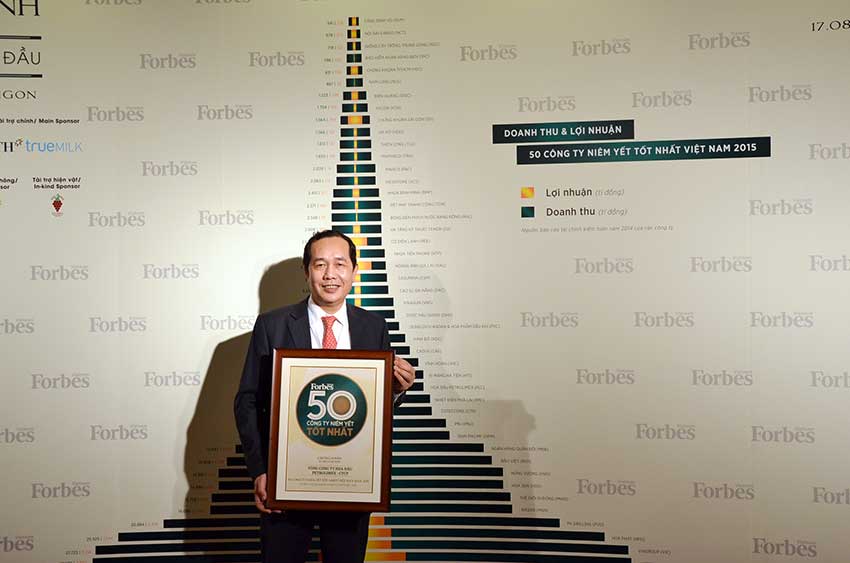 PLC deputy general director, Ngo Duc Giang, received the "50 Best Vietnamese Listed Companies" medal on behalf of PLC leadership
According to Forbes Vietnam the "50 Best Vietnamese Listed Companies 2014" were selected and singled out from more than 700 enterprises listed on Ho Chi Minh City Stock Exchange (HOSE) and Hanoi Stock Exchange (HNX). First and foremost, enterprises were marked in accordance with following criteria: compound annual growth rate of revenue and profits, Return on Equity (ROE), Return on Capital (ROC) and Earnings Per Share (EPS) in the 2010-2014 period; and then Forbes independently examined other criteria including sustainable development, trademark, and the quality of corporate management.
"In 2014, the Petrolimex Petrochemical Corporation JSC gained revenues of over VND6,808 billion, an increase of 10 per cent as compared to 2013; with earnings after income taxes reaching VND266.85 billion, 41 per cent higher than 2013," Forbes Vietnam features PLC.
At the ceremony, PLC was bestowed upon a "50 Best Vietnamese Listed Companies" medal by the event's Organizing Committee (the list was announced in June, 2015).
In 2014, PLC was also honored as Top 50 Enterprises with Best Annual Report 2014.
Since the company was listed on stock exchanges (December 27, 2006), PLC has always abided by regulations on information disclosure. Financial statements, corporate governance report, annual report, and others have been announced fully, timely and transparently to shareholders.
In 2015, PLC continues striving to better itself to become one of the leading enterprises in the manufacturing and trading of oil and lubricants, asphalt, and chemicals in Vietnam.
Some images feature the ceremony honoring the 50 Vietnamese Best Listed Companies: