On January 19, 2016, the Petrolimex Information Technology and Telecommunication JSC (PIACOM) and Lao State Fuel Company (LSFC) held a contract signing ceremony for supply and application of the corporate resource management software, EGAS_ERP, at Vientiane Plaza Hotel in Vientiane capital of Lao People's Democratic Republic.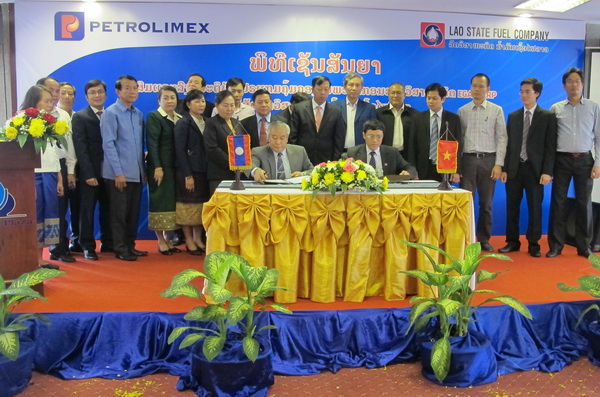 The contract signing ceremony between PIACOM and LSFC
Attendees at the event included representatives of the two companies' leadership, leaders of the companies' divisions/departments, and representatives of the Vietnamese Embassy in Laos, Lao National Television, Lao Petroleum and Gas Association, Lao Army Oil Company, and Petrolimex Laos Single-member Co. Ltd.
Addressing the ceremony, LSFC's Deputy Director, Boun Heme Noynhot, appreciated the practice and expressed LSFC's trust in choosing PIACOM as an official partner to carry out the project. He also committed to work closely with PIACOM to successfully implement the project.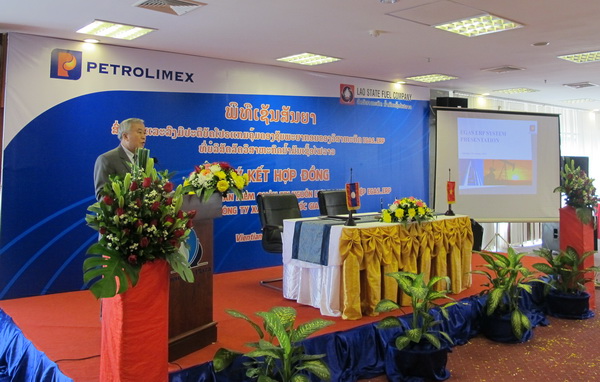 LSFC's Deputy Director, Boun Heme Noynhot, addresses the signing ceremony
Speaking at the event, PIACOM's Director, Phan Thanh Son, reviewed the history of co-operation between LSFC and Petrolimex Informatics and Automation Centre – PIACOM's predecessor – which resulted in the application of the Petrolimex Business Management (PBM) in the early 2000s. The PBM software has been applied in LSFC since then, however, due to its certain technological shortcomings, PBM is longer suitable with LSFC's management requirements. He took this opportunity to thank the LSFC leadership for their trust and pledged to bring into full play the co-operation spirit between Vietnam National Petroleum Group (Petrolimex) and Lao State Fuel Company. He said that PIACOM would use best resources available to successfully complete the project on schedule.
The corporate resource management software, EGAS_ERP, applied at the LSFC consists of Material Management (MM), Sale and Distribution (SD), Financial Accounting (FI), Management Accounting (CO), Warehouse Management (WM) and central infrastructure. EGAS_ERP is an Internet-based software designed as a data concentrator, which helps management bodies at all levels access to information from afar through smart devices such as laptop, tablet, and smart phones, among others, timely satisfying demands for information for production and business management. Of note, EGAS_ERP can easily integrate into the Automation system in order to improve labour productivity and make oil and gas business activities much more transparent. As planned, the software would be applied at the main headquarters, seven branches and 19 warehouses of LSFC within eight months.
The signing ceremony ended up with a Lao traditional dance of lam vong which features the solidarity between Viet Nam and Laos and the trust between Lao State Fuel Company and PIACOM.