On January 11, 2018, Vietnam National Petroleum Group (Petrolimex/PLX/Group) organised a workshop on petrol retail at its headquarters at No 1 Kham Thien Street. Chaired by Deputy General Director Vuong Thai Dung, the event gathered chairmen, and directors of Petrolimex's petroleum member companies.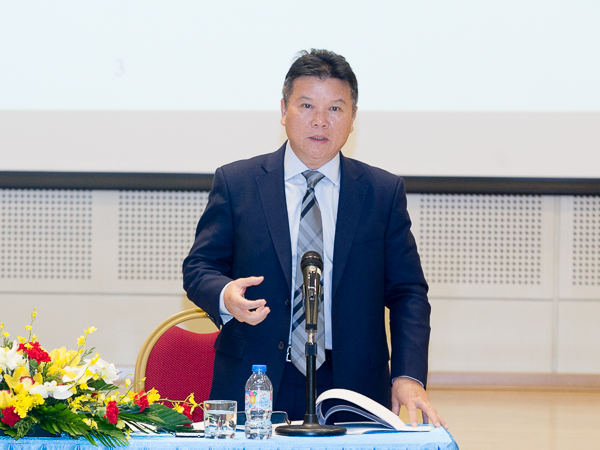 Petrolimex Board of Management member – Director General Pham Duc Thang directs the workshop

After evaluating the overall development of the petrol station in the past five years (2012-2017), the Petrolimex leadership proposed solutions for the coming time for discussions among Petrolimex member companies' leaders before they are officially adopted.
This is an intensive and face-to-face workshop on petrol retail organised with the aim to continue strongly expanding the Petrolimex's petrol station network in both quality and quantity in the coming time, suitable with the new situation.
All delegates attending the workshop highly consented to the fact that Petrolimex's petrol stations are of significant position in every business activity; they have not only actively contributed to the Group's general performance but also facilitated consumers to get access to Petrolimex goods/services; ensuring energy security in areas and regions, contributing to local socio-economic development, especially to the local budget. Consequently, it is agreed that a considerable amount of budget will be spent on developing the network in the 2018 working plan with a vision for following years of the medium-term plan.
With the spirit of respecting opinions from member companies' leadership, Petrolimex Board of Directors selected key reports/opinions contributed by chairmen and directors of the units to review and complete Regulation 075 based on reality and in line with Working Regulation 001/TGD-PLX dated January 2, 2018 and other legal provisions.
Addressing the workshop, Petrolimex Board of Management member and Director General Pham Duc Thang instructed member companies to concentrate on developing petrol stations and Petrolimex brand in line with the Group's development strategy with new priority policies and on the basis of bringing into full play the role and responsibility of the units' top leaders.
Based on the Director General's instructions and opinions of leaders of member companies, Deputy Director General Vuong Thai Dung will preside over the implementation of specific works in order to realise the policy of making Petrolimex's petrol stations increasingly spacious and modern; in which the presence of petrol stations in line with Petrolimex brand identity standards is the "necessary" element, whereas "sufficient" elements are: successfully protecting the Petrolimex trademark, bringing into full play the role of labourers directly working at petrol stations on the basis of adequate business mechanism, ensuring policies for employees, upholding the role of The five-step selling process, effectively applying The 5S Rule and The Kaizen Philosophy with the aim to build an increasingly sustainable Petrolimex brand in the heart of consumers; concurrently, the network development must closely be incorporated with the implementation of social welfare activities in localities on the basis of good corporate responsibility towards the social community.
Please click here for news pictures featuring the workshop