On April 27, 2018 Vietnam National Petroleum Group (Petrolimex – ticker symbol: PLX) held its 2018 Annual General Meeting of Shareholders at the International Convention Centre, 11 Le Hong Phong St, Hanoi.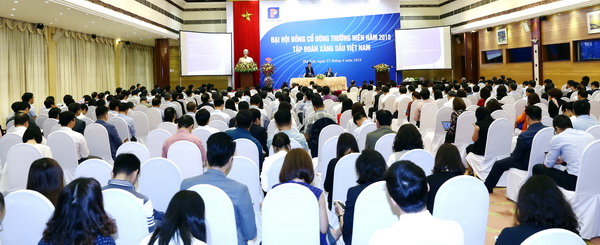 The meeting was convened in accordance with the Petrolimex Management Board's Invitation No 0519/PLX-TB-HDQT dated April 12, 2018 to discuss and vote for 10 contents made known to Petrolimex shareholders at www.petrolimex.com.vn/Investors.
Chairman of Petrolimex Management Board Bui Ngoc Bao, and Petrolimex Management Board member and Director General Pham Duc Thang were elected to chair the meeting.
In 2017, Petrolimex synchronously and seriously adopted solutions and closely followed market developments as well as the State's macro policies. With the efforts and strong sense of responsibility of all Petrolimex staff, the production and business results achieved in 2017 were quite comprehensive, with all targets reaching and exceeding expectations set by the 2017 Annual General Meeting.
2017 is the third consecutive year that Petrolimex fulfilled and outdid the year's targets, and witnessed the sales of petroleum in domestic market continue to grow.
Along such outcomes, Petrolimex also made certain achievements: (1) Top 50 enterprises listed on Vietnam stock market in 2017, taking the lead in revenue; (2) Successful replacement of mineral petrol RON 92 with the bio-fuel E5 RON 92, pioneering trade of RON 95 and diesel level V; (3) Highest number of newly-built petrol stations, raising the total number of Petrolimex-owned petrol stations to nearly 2,500.
Shareholders discussed and highly concurred with contents in the reports and proposals presented at the meeting, which is in line with the meeting's regulations. Regarding the personnel work, the 2018 Annual General Meeting elected one more member to the Board of Directors and two more members to the Supervisory Board for the 2016-2021 term.
In 2018, with the forecast socio-economic situation and determination to sustain the steady and comprehensive growth, the Annual General Meeting of Petrolimex agreed upon key orientations, tasks and solutions as follows:
Orientations, Petrolimex will continue concretising solutions to enhance the quality of corporate governance with the aim to ensure stability and sustainable development, comprehensively increase business efficiency, take steady steps in international integration, and maintain dividend payout ratio of at least 12% in 2018.
Tasks, Petrolimex will stay focused on: Restructuring to gradually improve efficiency and cut costs in line with the Government's orientations; develop a plan to reduce the State ownership to 51% in accordance with the Prime Minister's Decision No 1232/QD-TTg dated August 17, 2017; effectively use capital through the synchronous implementation of measures, financial tools and optimal divestment manners as regulated; quickly complete the system of material and technical facilities for petroleum trading in the 2017-2021 period with a vision to 2030; proactively and actively join other ministries and sectors to make considerable contribution to the completion of legal documents for petroleum investment, trading and distribution.
Solutions, Petrolimex will focus its resources on four major areas: ensure absolute safety in production and business activities and strict management of the quality of goods/services through the synchronous implementation of labour organisation, and application of IT solutions, automation; thorough and flexible logistics management to ensure efficient operation and use of capital; widespread adoption of solutions to create breakthroughs in the development of retail network in conjunction with increased promotion of new PLX-branded commercial products; determination to protect the trademark and bring the brand to a new height; maintain the systematic practice and inter-sectoral linkage in non-petroleum business areas to uphold identity and general strength of Petrolimex; in which adequate attention should be paid to improving efficiency of PTC, PG Tanker and PLC.
Petrolimex has always made non-stop efforts to seek for new driving force for development in the right direction with increased professionalism. Petrolimex leaders and the whole staff are determined, act bravely and synchronously, and uphold a strong sense of responsibility towards shareholders, partners, and customers to build up their trust in Petrolimex brand for taking you further.
Production-business results in first four months of 2018
Total volume of petroleum sold amounted to 4.4 million cu.m tonne, up 15% from the same period and equal to 33% of the plan.
Retail sales growth in 2018 is expected to be up 4.5% over the same period last year. The first four months of 2018 witnessed retail sales growth of 7% compared to the same period last year, with sales surging in nearly 2,500 petrol stations.
Total consolidated profit reached VND1,827 billion (US$80 million) in the first four months, equal to 36.4% of the year's plan, in which earnings from petroleum reached nearly VND1,000 billion.
Positive performance continues to be seen in all business areas from petroleum to other specalised ones.
The minutes of 2018 Annual General Meeting: here
2018 Annual General Meeting Resolution: here