The fourth "biggest company" in the non-life insurance market Petrolimex Insurance Corporation (Pjico- ticker symbol: PGI) has announced its international credit rating by the global insurance rating agency A.M. Best, Financial Strength Rating of "B+" (Good) and Issuer Credit Rating of "bbb-" (Good); projecting a positive outlook for the upgrade of both ratings.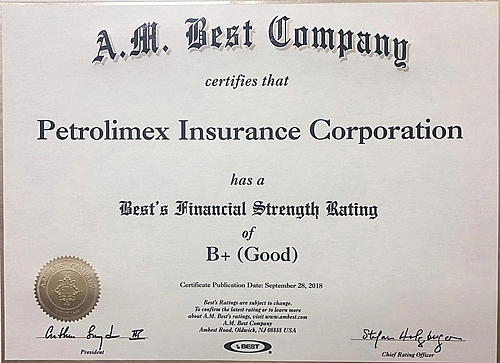 In fact, it is hard to gain rating, and it's even harder to maintain and improve the rating because if a rated enterprise does not adjust to international standards set by the rating agency, it will be hard to maintain the rating. Rating in each business is always top of concern for investors, especially big domestic and foreign investors. This is also considered a "thermometer" to measure the "health" of financial activities of enterprises, forcing insurance enterprises to publicise information and management in line with international standards.
PJICO has two major shareholders, the Vietnam National Petroleum Group (Petrolimex) that holds a 41% stake and foreign strategic shareholder Samsung Fire and Marine Insurance Co., LTD (SFMI) with a stake equivalent to 20% of chartered capital.
Till now, PJICO has been operating in the non-life insurance sector for 23 years and is considered a prestigious business with scale and market share among the top ones in the non-life insurance market in Vietnam. PJICO has joined in large-scale projects of Petrolimex, Vingroup, and key national projects as the major insurer. These are the key points that help investors consolidate their trust in PJICO; and shareholder SFMI decided to choose PJICO among many other potential large enterprises in Vietnam.
Speaking to the Cong Thuong (Industry & Trade) newspaper, a representative of PJICO leadership said: The ratings will further strengthen the belief of existing shareholders as well as potential investors. We are well aware of the fact that if we need to build trust with partners, to help our partners understand that investing in PJICO is investment for the future, the enterprise's financial activities must be carried out towards increased transparency".
As known, A.M. Best is the only global credit rating agency focusing on the insurance industry with more than 100 years of experience. Annually, A.M. Best conducts the re-evaluation, without making any efforts, it is likely that enterprises will "slip" in the rankings.
In the first nine months of 2018, PJICO achieved positive business results with total revenue estimated at VND2,294 billion (US$98.5 million), up 11% year over year; profit reached nearly VND131 billion ($5.6 million), up 8.2% over the same period last year, fulfilling 76.3% of the year plan.